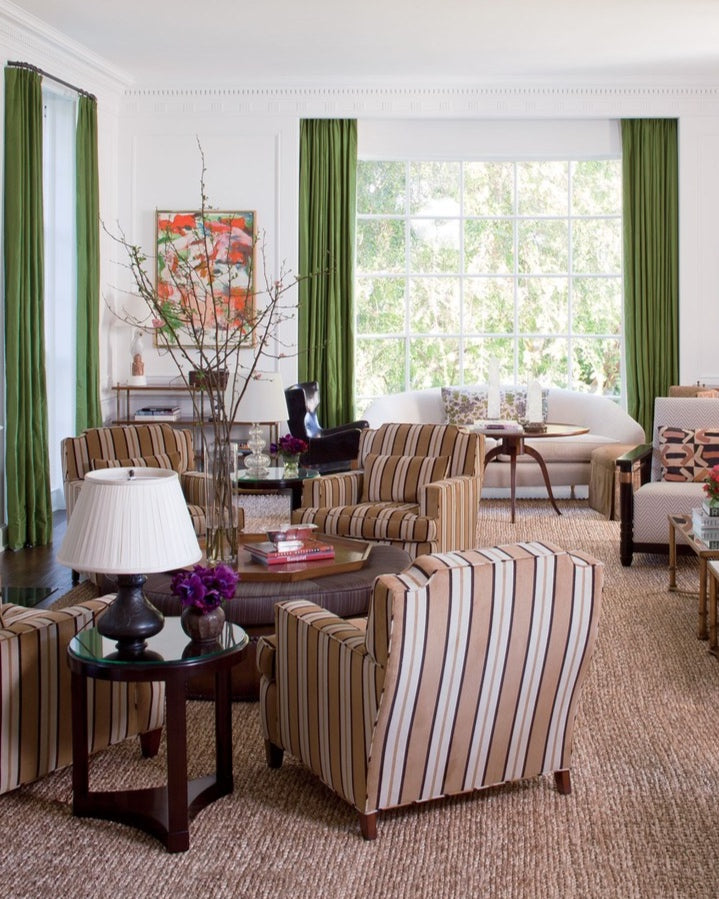 Architectural Digest: April 2017
See how Peter Dunham creates a refined yet relaxed home for film producer Steve Tisch
Written by James Reginato | Photography by Roger Davies
In 1964, during his first visit to Los Angeles, 15-year-old Steve Tisch was taken by his parents to a party hosted by actress Polly Bergen and her husband, legendary agent-producer Freddie Fields. Movie stars were no doubt abundant that night, but Tisch remembers only the couple's home—an august neo-Georgian redbrick mansion in Beverly Hills. It's a favorite story: "I walked in and was staggered by its style and regal quality," he recalls. "This was Hollywood. I knew it was the kind of house I would like to live in one day. I guess somebody heard me—because that's the house I live in today."
Tisch, who went on to become one of the town's most successful producers (Risky Business, Forrest Gump, and The Pursuit of Happyness are among his credits), acquired the property in 1997, after receiving a call from his then-wife, Jamie, who was out scouting real estate. As he drove through its majestic gates an hour later and saw the five-bedroom, 10,000-square-foot residence, he experienced major déjà vu. Designed in 1932 by architect Paul Revere Williams, the house is an exercise in polished grandeur, from its brick-paved circular drive to its striking 20-foot-high stair hall. A poolhouse and screening-room bungalow sit adjacent on seven landscaped acres that offer commanding views, from downtown L.A. all the way to the Pacific.
In 2006, after an amicable marital split, Tisch relocated while Jamie and their three children stayed put. A few years later, however, when she decided to move to New York, he jumped at the chance to end what he refers to with a smile as his "hiatus" from the home. For Tisch, who also has two adult children from an earlier marriage, this was the opportunity he'd been waiting for. "I wanted to make the house my house—for the first time really," he says. "There was nobody else whose approval I had to get, whose taste I had to please—I got to decide. It was so much fun."
A friend suggested he enlist the help of interior designer Peter Dunham, an Oxford-educated English expatriate whose stylish but undecorated look has won him top-drawer clients, including Ben Affleck and Jennifer Garner, and Juicy Couture cofounder Pamela Skaist-Levy. "Peter got it the minute he walked in," Tisch says. "It was like the line from Jerry Maguire, You had me at hello.'"
According to Dunham, "Jamie had made it more modern, more feminine after Steve moved out. But it was an easy transition to make—the house is incredibly well laid out, so I had great bones to work with." His first priority was to provide a worthy home for his client's collection of modern and contemporary art. "After his children, I think that's his great love," Dunham says. "Oh, I guess there's also—what are they called—the Giants?" he adds airily, as perhaps only a decorator with a posh British accent could. As many people know, Tisch's family owns 50 percent of the storied New York football franchise; he is the only person on earth to have won both an Oscar (for 1994's Best Picture, Forrest Gump) and a Super Bowl ring (for the Giants' victory over the Patriots in 2008).
The designer set out to create more-masculine backdrops for the art while keeping the house's distinctive Georgian-style details intact. Thus, in the entry hall he maintained the delicate Chippendale-style moldings but lined the walls with handblown antiqued mirror; in a pair of niches, he replaced a set of antique English boxes with a colorful installation of wax cups by L.A. artist George Stoll. In the living room, meanwhile, he laid down a simple custom-woven abaca rug "to defuse the formality," and chose apple-green French silk for the curtains to pick up the hues of the garden just outside as well as those in the large Basquiat painting over the sofa.
×